NOISE TEST BOOTH MANUFACTURER IN INDIA | NOISE TEST BOOTH | AUTOMOTIVE NOISE TEST BOOTH
The Noise Test Booth Manufacturer in India is an affordable, easy-to-use, portable device that provides an instant noise reading in decibels. The Noise Test Booth is a tool to test the noise level of your environment. It can be used in the office, home, car, or even a noisy factory. It's a reliable device that provides precise measurements.
The noise test booth is used for checking the noise level. The booth is in a room that is filled with devices and noise-making objects. The testing booth has a microphone and a speaker. The speaker emits noise and the microphone listens to the noise. The noise-making objects are placed on a shelf that can be pulled down from the wall. When the noise-making object is on the shelf, the microphone is close enough to hear the noise it makes. The microphone sends the sound to a machine.
The main functionality of a noise control booth is to eliminate the shop floor noise. The isolation of the noise test booth with acoustic material all around prevents the floor noise from penetrating the enclosure. The machine has a light that turns on when it hears the noise. It is a quiet room and is used for a number of different purposes as well.
The Acoustic Laboratory of Engineering has a fully anechoic, a Hemi-anechoic, and a reverberation room for automotive noise testing. This chamber is manufactured using quality-assured raw materials and technologically advanced equipment as per the set industry standards.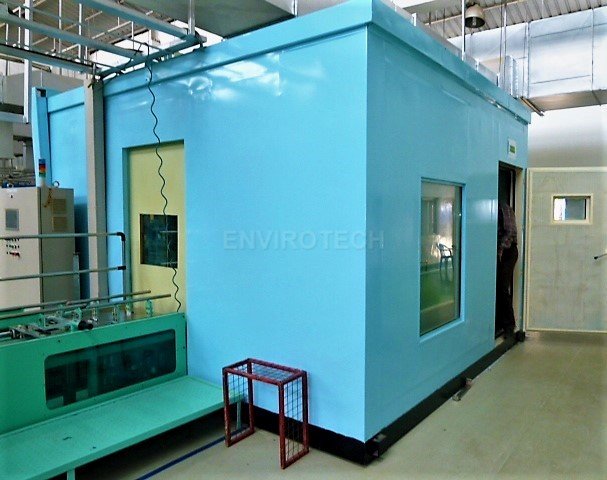 Features Of Noise Test Booth
Engine Noise Testing Room
HVAC Equipment Testing Room
Noise Testing Room
Machine Sound Testing Rooms
 Automotive Noise Test Booth 
Automotive Noise Test Booth reduces sound reflections hence aiding with the increment in the accuracy of intensity measurement. It is widely used to control the surrounding noise as well as reduce the noise of the machinery and equipment. Automotive Noise Test Booths, also known as Sound Test Chambers, are one of the most-effective solutions for redundant noise.