AIR INTAKE AND DISCHARGE SILENCER |AIR INTAKE BAFFLES SILENCER | AIR INTAKE SILENCERS FOR COMPRESSORS | ENGINE EXHAUST SILENCERS | AIR INTAKE SILENCER FOR DIESEL & GAS ENGINES |AIR INTAKE SILENCER FOR GAS TURBINE
Envirotech Systems designed air intake and discharge silencer is recommended by industry experts. It is vital that all Power Generation installations in Plant Rooms have the required noise control measures in place that ensures the facility meets the internal and external environmental noise criterion. A few applications for these silencers can be for noise reduction produced by gas turbines, large electrical motors, generators, fans & blowers, cooling towers, and HVAC equipment among many others.
Our silencers incur a low total cost of ownership and ensure high reliability and the units are customs designed to meet standard environmental requirements. We also supply accessories such as intake filters, mounting sports for vertical and horizontal installation, and flex connectors. Controlling noise pollution for systems that receive air from combustion engines and turbines is a priority for many organizations.
These silencers muffle the noise and help in maintaining the environmental noise pollution norms. Our turnkey solutions using an air intake and discharge silencers for industrial machines are very effective, especially for diesel generators, gas turbines, compressors, and combined heat and power systems. Power generation equipment needs to have noise control measures in place to deal with noise pollution.
The noise reduction capabilities of the air intake and discharge silencer are from 10 dB(A) to 50dB(A). The design of the silencer can be rectangular or circular depending on the area of application. We also make specific designs for low-frequency noise control.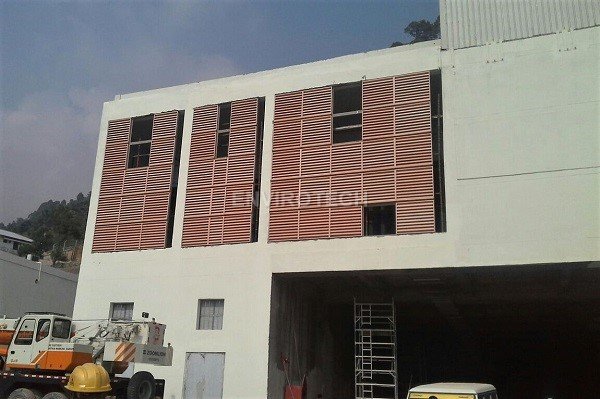 We provide noise solutions for all types of Power Generation equipment that include:
Diesel Generators
Combined Heat and Power (CHP) systems
Gas Turbines
Compressors
We offer a full turnkey service or we can integrate with other systems and services such as filtration, selective catalytic reduction (SCR) systems, etc.
Applications of Air Intake and Discharge Silencers
We have extensive experience and technical knowledge of air intake and discharge silencers for all types of applications and designs that include:
Intake and discharge silencers for cooling and combustion air requirements
Smoke and fire extract systems
Noise reduction capability from 10dB(A) to 50dB(A)+
The rectangular or circular design
Special designs for low-frequency noise control e.g. diesel generators
Wide range of noise reduction with minimal pressure loss
Large thickness panels to ensure low-frequency attenuation.